A new seal began to appear on bottles and cans of American craft beer in 2017. It both certifies that the beer came from one of the nation's independently owned and small-scale breweries and signals that these upstarts are fighting back against the corporations trying to co-opt their authenticity and craftiness.
The corporate juggernauts often called "Big Beer" clearly get the multifaceted appeal of independently brewed craft beer powered by a thirst for locally made products like beer made from traditional and unusual ingredients. That's why they're trying to beat back the competition by giving off the same vibe as the craft breweries that have eroded their edge – when they're not running Super Bowl commercials that deride people who drink craft beer.
Like other researchers studying this trend, we see the growing taste for beer from small-scale artisanal breweries as a consumer-based social movement. We believe the new label will help craft brewers to hold their ground because many enthusiasts don't want to be fooled into drinking a fake version of a product that commands a premium due partly to its diversity and authenticity.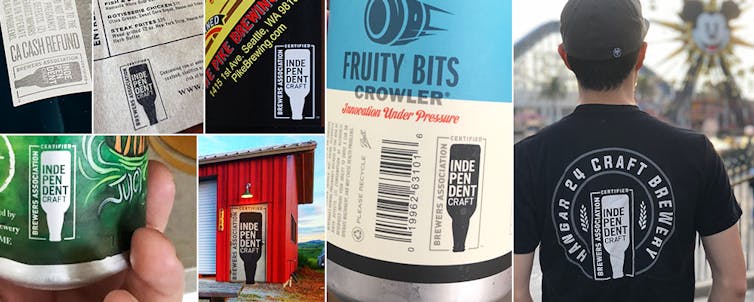 Only two giant players remain in the domestic market after years of mergers: Anheuser-Busch InBev and MillerCoors.
This duopoly is using three main strategies to quash its tiny competitors. It buys out craft breweries and launches its own "craft" brands, which do not fit the artisanal industry's own definition since they are mass-produced. It also derides craft beer drinkers.